Ecstasy Unbound (The Guardians of the Realms Series Book 1)
by Setta Jay (Author page can be found in this LINK)
Welcome to the world of The Guardian's of the Realms, a group of immortal warriors in charge of watching over and protecting the four realms of this world: the Realm of Pure Souls, the Realm of Corrupt, the Realm of Humanity, and the Tetartos Realm.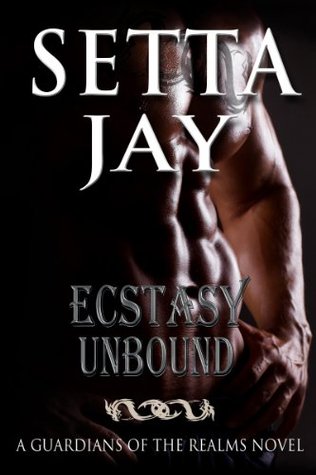 In this first book of this series we are introduced to Uri, immortal warrior, and Alexandra (aka Alex) demi-goddess.

They have been circling each other for years, watching and following from a distance.

Building their obsession and lusting after each other.
Alex finally reaches out to Uri for help in saving one of her brothers, Erik.

When these two finally come face to face their sexual pull is incredible and unbeknownst to both of them their meeting starts the mating frenzy.

This comes as a complete surprise to Alex, Uri and the other immortal warriors.

To have immortal warrior and demi-goddess be destined to be mated is unique.

Their coming together is pretty explosive and sure to have you fanning yourself a couple of times!
I really liked Alex.

She is a smart, strong heroine.

After the initial shock wore of she very naturally welcomed Uri as her mate.

Even with him being one "hot" alpha male, she was able to hold her own and bring out the softer side in him…not to mention the hard part!
Uri is to die for!

SUPER HOT!!! He certainly is a hot, dominant alpha male, oozing sexiness.

I love that he is very overprotective of Alex.

He is also very open to her desires and not only his.
I enjoyed how this story flowed.

The beginning was a bit slow, but once I got passed the introduction of the book I was hooked.

There is a lot going on in this book, and I would think that it's because it's the first book of the series.

Many characters are introduced and some of the situations explained for you to be able to get a better feel of the story line and why our hero and heroine find themselves in their current situation.

With this all going on I believe the author did a great job and making it come together and flow through out the book.

I must admit that at the end of the book I went back to the 1st chapter to re-read the birth of our immortal warriors just so that I was able to connect more of the pieces together.

This book reminded me of the JR Ward's Black Dagger Brotherhood series, with the super sexy heroes and strong heroines.
The sex/love scenes are very spicy and some sexual situations may be extreme for some. It is best to keep an open mind about the sex scenes. These males are very open, and more sexual in nature. There is a club scene at the beginning of the book that will have you taking a couple of deep breaths.

Pretty scorching!
I should note that there is one rape scene that may be uncomfortable for some readers.
I am glad I found this book and look forward to reading the others in the series.

Thank you for stopping by and checking out my latest read!
Roxana
*ARC provided by author in exchange for an honest review.